We have some exciting news for you all!!!
From Thursday the 16th of August Debbie will be doing reflexology between 12 and 7pm every Thursday at The Source Hairdressing.
Through Reflexology, Debbie brings her healing hands to your feet and/or hands to de-stress, relax and rejuvenate! This non-invasive and profound natural healing modality has a ripple effect that encourages stagnant energies and stress throughout the whole body to release, supporting an overall balanced state of equilibrium where the body is truly able to heal.
Reflexology is a time to put your feet up. The treatment itself is very relaxing while using a cream based balm and Young Living essential oils to massage around the feet and/or hands while applying gentle focused pressure to particular reflex points. Some people feel tenderness at times, this is because the tenderness is reflecting stress somewhere in the body. Overall, Reflexology feels great!
Chakra Balancing helps to improve and encourage the body's own healing abilities to function more efficiently and is performed whilst in a comfortable seated position. This assists in clearing stuck-ness in each of the 7 main chakras. These chakra's run down from the top of the head to the base of the spine and are located on the front and back of the body, relating to the feeling and will experience.
Whilst held in a space of harmony, balance and wellness, this simple and nurturing process will over time, provide you with a sense of how you can be balanced, and a sense of how you can throw yourself off balance which empowers each person to maintain their own harmony, and to make more loving choices.
Price list: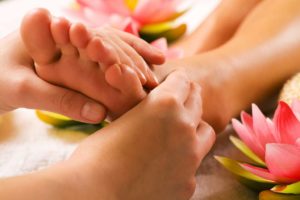 1/2 an hour (Reflexology OR Chakra) – $60
1 hour (Reflexology OR Chakra) – $89
1 and 1/2 hours (Reflexology AND Chakra) – $145
AUGUST SPECIAL – Book in during the month of August for Reflexology And Chakra (1 and a 1/2 hours) and receive $15 off!
To book a session with Debbie, please phone (08) 9447 2242 
We hope to see you soon!